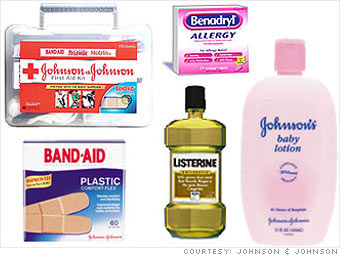 Last year, the maker of personal care products, branded pharmaceuticals and medical devices completed the integration of Pfizer Consumer Healthcare - a division of the pharma giant that includes Benadryl, Nicorette, Listerine and Sudafed - that it acquired in late 2006 for $16.6 billion.
Along with those over-the-counter brands, the company also assumed the rights to Zyrtec, a formerly prescription-only allergy medication that the FDA granted OTC status once the Pfizer patent expired. Armed with a new medicinal treasure chest, revenue grew 14% for the year.
Our History
Johnson & Johnson was founded more than 120 years ago on a revolutionary idea: Doctors and nurses should use sterile sutures, dressings and bandages to treat peoples' wounds. Since then, we've brought the world new ideas and products that have transformed human health and well-being. Every invention, every product, every breakthrough has been powered by generations of employees who are inspired to make a difference.

Our Management Approach
Johnson & Johnson is a company of enduring strength. We've been privileged to play a role in helping millions of people the world over be well and stay well through more than a century of change. As the science of human health and well-being has grown, we've been able to grow along with it. Even more important, we've helped shape and define what health and well-being means in every day lives. Our products, services, ideas and giving now touch the lives of at least one billion people everyday.

We credit our strength and endurance to a consistent approach to managing our business, and to the character of our people. We are guided in everything we do by Our Credo, a management document authored more than 60 years ago by Robert Wood Johnson, former chairman from 1932 to 1963, and by four strategic principles.


Our Company
Caring for the world, one person at a time... inspires and unites the people of Johnson & Johnson. We embrace research and science - bringing innovative ideas, products and services to advance the health and well-being of people. Employees of the Johnson & Johnson Family of Companies work with partners in health care to touch the lives of over a billion people every day, throughout the world.

Our Family of Companies comprises:
The world's premier consumer health company

The world's largest and most diverse medical devices and diagnostics company

The world's third-largest biologics company

And the world's sixth-largest pharmaceuticals company
We have more than 250 operating companies in 57 countries employing 119,400 people. Our worldwide headquarters is in New Brunswick, New Jersey, USA. To learn more about our companies, explore the map.
Source : http://www.jnj.com